A great hangboard is one of the best training tools to improve your finger strength and get a rock-solid grip.
In bouldering, rock climbing, and Ninja Warrior, finger strength is often the limiting factor. Without well-trained fingers, you may reach a plateau sooner than necessary. This is where hangboarding comes into play. Once started, you will see quick progress as a beginner and will soon be able to climb routes and hold on edges that seemed impossible before. All you need is a suitable hangboard and 30 minutes once or twice a week.
If you are in a rush and looking for the best hangboard for beginners my recommendation is the Metolius Simulator 3D. This is the hangboard I use weekly and I'm absolutely happy with. Click here to see it on Amazon. 
But, if you want to know what makes a perfect beginner hangboard, what awesome alternatives I recommend, like the Beastmaker 1000, for those who don't like rough surfaces, or why I prefer the Metolius Simulator 3D read on.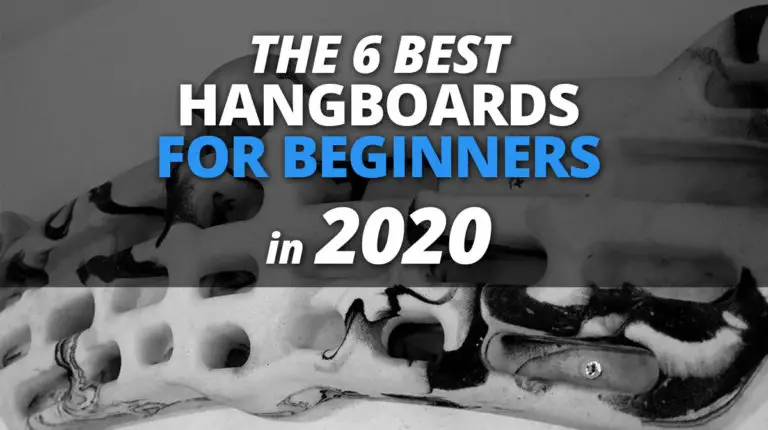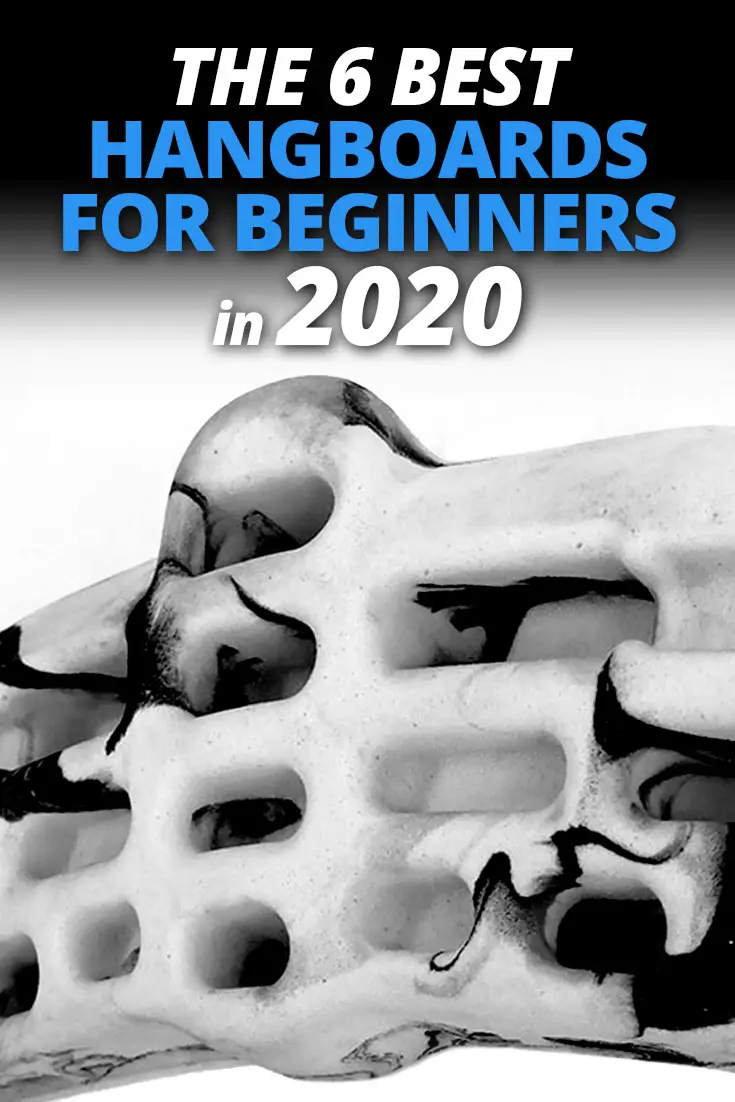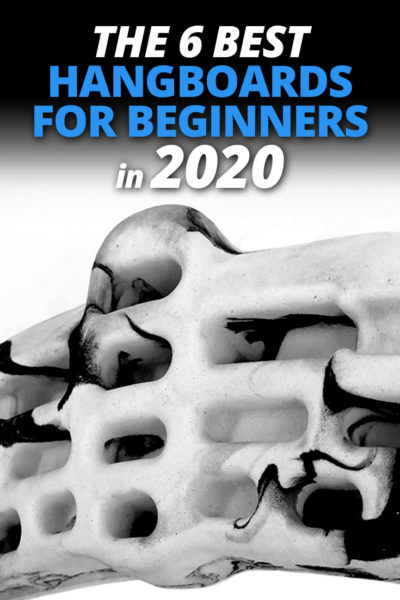 Some health advice
If you are completely new to climbing or bouldering or under 16 years, then you shouldn't do hangboard training yet. Hangboarding puts a lot of load on your fingers and it's very easy to injure your tendons or ligaments when they are not used to such stress. In the worst case, you wouldn't be able to climb for several months, as tendon injuries need quite some time to heal. So, just climb more and let your muscles and tendons adapt first. And then come back to this article.
Features to look for in hangboards
Hangboards, a ka fingerboards, come in all shapes, sizes, and materials, which makes finding the best hangboard no easy choice. Certain attributes make a hangboard great and decide whether it's a good fit or not. And those are:
Variety of grips
Material and texture
Customizability and size
Mountability
Price
As a beginner, you should choose a hangboard with higher friction, a good variety of grips with beginner-friendly holds amongst them, and great progression.
Well-known brands that make such hangboards are Beastmaker and Metolius. But there at lot more, every board with specific features and strengths. More about those in detail later. First, let's have a look at the different criteria you should consider before buying a hangboard.
Variety of grips
The variety of grips is probably the most important attribute when it comes to evaluating a hangboard. 
A good hangboard lets you train a multitude of different muscle combinations. You want to be able to switch between open hand, crimps, pinches, slopers, and pockets to minimize the risk of injuring your tendons and overworking certain muscles. Besides that, varying your training is always great for increased gains.
However, just because one hangboard has more grips than another, doesn't make it automatically better. More important is the variety and that it features a great progression of hold types that become smaller and/or less deep. This will let you train your finger and forearm strength in a systematic way and makes it easy to track your progress.
As a beginner, you should also look for holds with appropriate depth. Edges with more than 0.6inch (15mm) depth are good to begin with.
Material and texture
Most hangboards are either made of wood or plastic, like polyurethane or resin. Each material comes with its pros and cons and it is hard to say that one material is better than the other.
Wooden hangboards, like the Beastmaker series, are kind to your skin as they have the smoothest surface. Plastic hangboards are typically rougher. Some of those also mimic the texture of rock, like the hangboards from Metolius.
That said, wooden hangboards definitely feel better and are more comfortable. But the smooth low-friction surface won't toughen your skin as much as the rougher plastic ones and makes it harder to get a hold on. Especially, when it comes to steep slopers or thin edges, then smooth wooden hangboards are way more challenging for a beginner climber. Take that into account, before buying a hangboard.
Wooden hangboards are also often more expensive than their plastic alternatives.
Customizability and size
Most hangboards aren't customizable, but some rare ones are. Those hangboards typically consist of 2 separate parts that can be mounted at the perfect width for your shoulders. You can also use a sliding suspension to vary your training and stress different muscles. That's a clear advantage over a non-customizable hangboard and might be an attractive argument for advanced climbers.
Besides customizability, you should also consider the size of a hangboard. Some boards take up a lot of space, others are more compact, and a few ones are even portable. If you are often on the road, then a portable hangboard may be a loyal companion.
Price
Available hangboards vary greatly in price. But the price does not always reflect the hangboard's value. So, make sure to get the most out of it. However, all of the hangboards below are of great quality and will last for years to come.
As a hangboarding beginner, you may choose a less expensive one first and check if hangboarding is the right training method for you. However, if you are an experienced climber, then you can go for a more expensive hangboard, as this may be your final investment.
Get a Free Copy of the Pull-Up Performance Guide
You are almost there! Just join the newsletter with your email below and get instant access to that guide.
These are the 6 best hangboards for beginners
Now, that you know the properties of a great hangboard and what to look for, here is my list of the best hangboards for beginners in 2021.  If you are missing a hangboard you'd like to know more about, feel free to leave a comment below. I will have a look at it. 
But now enjoy the following selection of high-quality, well-made hangboards that will certainly boost your finger strength:
The Trango Rock Prodigy hangboard was designed by the brothers Mark & Mike Anders, both pro climbers and authors of "The Rock Climber's Training Manual". It is one of the most sophisticated boards on the market. With over 30 different grip positions using multi-use pockets, it features an awesome versatility and covers most trainable grip variations you'll ever need. 
It also has some rare pinches where your thumb is on the bottom and the fingers are on top. You won't see them often on hangboards. With those pinches, you can do an excellent isolated forearm training.
Another unique feature of this hangboard is that it consists of two parts. You can mount them with any width apart you like. Some people even mount them on sliding panels, so they can vary their training with different widths.
This board is a great choice for beginners and advanced climbers alike. The only drawback is the slightly higher price and that mounting needs more time.
Metolius hangboards are one of the most popular and best-selling hangboards. And that for a good reason. You can't get more value for your money. You can even choose between different color options, like white with a blue, green, or black swirl pattern.
The Metolius Simulator 3D has rounded and flat slopers, 18 pockets of various sizes and depths, and jugs on the outer edges that give you the possibility of pull-up training. There is also a good progression of edges. The lower you go the harder it gets, making it easy to track your progress. Only pinches are missing. 
Its surface is rough and almost feels like stone. You won't have to rely on chalk when training on this board. 
It tapers for improved ergonomics making it one of the larger hangboards. So check if you have enough space over your doorway. 
All in all, the Metolius Simulator 3D is a fantastic choice for experienced climbers, but also for beginners that are fine with a rough texture. If you prefer pinches over jugs and want to have a comparable board, then go with the Metolius Contact instead.
The Beastmaker 1000 is a well-known wooden hangboard with a skin-friendly texture and smooth edges, that also looks pleasing on the wall.
It comes with 2 slopers (20/35 degree), 2 jugs, and various pockets (2/3/4 fingers) with an excellent progression from top to bottom and reasonable depths. The hardest 4 finger pocket is 0.4inch (10mm) deep, which makes this hangboard a great hangboard for beginners, but also for experienced climbers that haven't trained on hangboards before. 
Unfortunately, it is often sold out. So, don't be disappointed if it's not available. If you can live with a rough texture, then the Metolius Simulator 3D is the perfect alternative.
Even I won't recommend the Beastmaker 2000 for beginners, this hangboard deserves a top spot here in this list.
It has the same high quality and skin-friendly texture as the Beastmaker 1000, and also comes with a multitude of different grips. However, those grips are tailored more towards advanced climbers. The pockets range from 4 fingers to 1 finger and the slopers even go as steep as 45 degrees.
In short, it's a fantastic board for people that already have well-trained fingers and experience with hangboard training.
The Metolius Rock Rings 3D are different and some people don't even recognize them as a hangboard. They consist of 2 independent units, each one with a single-point suspension that enables free rotation of joints for reduced risk of injury. The units have 1 jug and 3 different pockets (2/3/4 fingers). Like the other plastic hangboards from Metolius, they have a rough stone-like surface.
The Metolius Rock Rings 3D are fairly restricted in their grip variability, but they are inexpensive and portable, which makes them a unique training tool. You can easily mount them anywhere you like. You have a pull up bar? Just hang them there.
For beginners who don't want to spend much money on a hangboard, these may be the perfect addition to their existing training equipment.
The So iLL Iron Palm is a special hangboard. It isn't as versatile as other hangboards, as it doesn't have any pockets. But its slopers, pinches, and edges of varying depths are like no other and make this an outstanding, but specialized hangboard.
If you want to focus on sloper or pinch training, then this might be the right hangboard for you. You can even get several of these hangboards and mount them above each other to create a top-notch campus board. However, be prepared for a rough surface, which might not be anyone's taste.
How to mount a hangboard
Almost any hangboard comes with instructions on how to mount it and pre-drilled holes. Some even supply the required screws for easy mounting. 
A hangboard is best screwed onto a wooden backboard first. Then this board is securely attached to a wall. On solid walls, you can mount hangboards directly. But keep in mind, that this may leave nasty imprints. 
The best place for a hangboard is where you can hang freely without your legs touching anything, like over a doorway. Hangboards can vary quite strongly in their dimensions. So make sure there is enough space for the one you choose.
If you don't want to fix a hangboard on a wall, there is also an alternative. Blank Slate offers doorframe mounted boards on which you can screw a hangboard on. You can even adjust the incline to make your training more demanding as you progress. Those boards aren't cheap but may be worth it if you don't want to damage your walls. 
If you want to spend less money, you can also build something comparable, though less adjustable, on your own with just a door-frame mounted pull up bar. Here is a step by step guide on how you can do that:
The proper way to train on a hangboard
Training on a hangboard consists of short dead hangs with various grip positions and only a few seconds rest in between. These hangs must be active, meaning you pull your shoulder blades down and back, to prevent shoulder injuries.
Typically you start with the most challenging grip position and move on to the less challenging ones. The Repeaters protocol is such a training program.
I have dedicated a whole article to proper hangboard training for beginners, but also included an Advanced Repeaters protocol as well. So make sure to read that guide to prevent injuries and get the most out of your hangboard.
Summary
Training on a hangboard, also called a fingerboard, one or two times a week can massively improve your finger strength and increase your climbing performance.
As a beginner, you should know what features to look for when choosing a suitable hangboard. Some hangboards have a strong focus, others are highly versatile and let you train a huge range of muscle combinations. Beginners should start with a versatile one.
If you are looking for a versatile board, are fine with a rough texture, and don't want to spend much money, I highly recommend the Metolius Simulator 3D. If you prefer a smoother texture instead, then a hangboard like the super skin-friendly Beastmaker 1000 or the semi-rough Trango Rock Prodigy may be another choice you'll definitely love.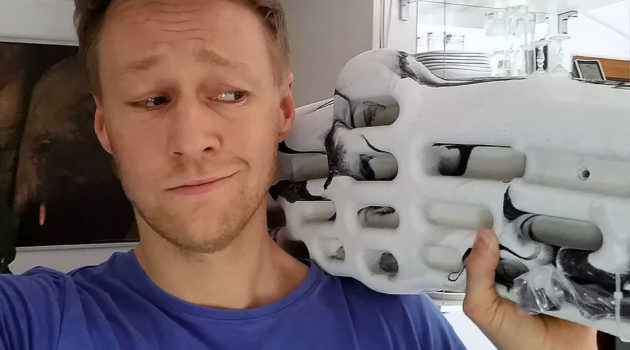 And now, go crush it!
Let me know in the comments below which hangboard you finally chose! I'm curious.
Please share this article, if you liked it: