Not everybody has access to a Ninja Warrior gym and certain times even require training at home. It may not be the perfect preparation for Ninja Warrior, but with the right equipment and a proper workout, it will be effective and you can see great gains.
I usually train four of six times a week without going to a weightlifting gym, training on Ninja Warrior obstacles, or climbing, and have significantly boosted my physique since having optimized my training for Ninja Warrior and shifted to bodyweight exercises.
On the following pages, I will show you how you can train for Ninja Warrior at home and what you can do to compensate best for not having access to Ninja Warrior obstacles.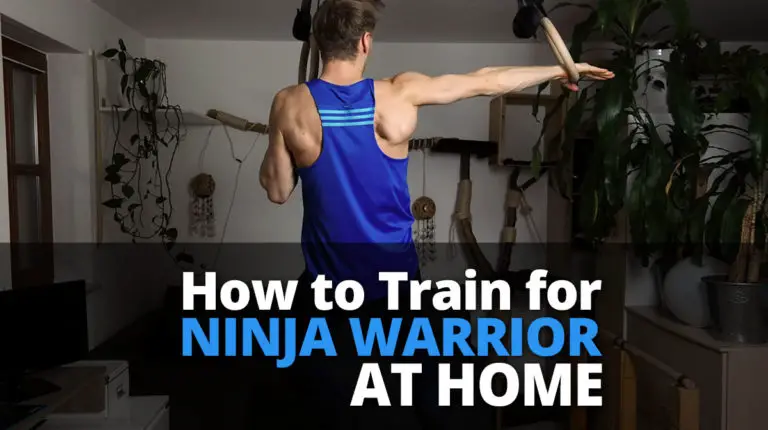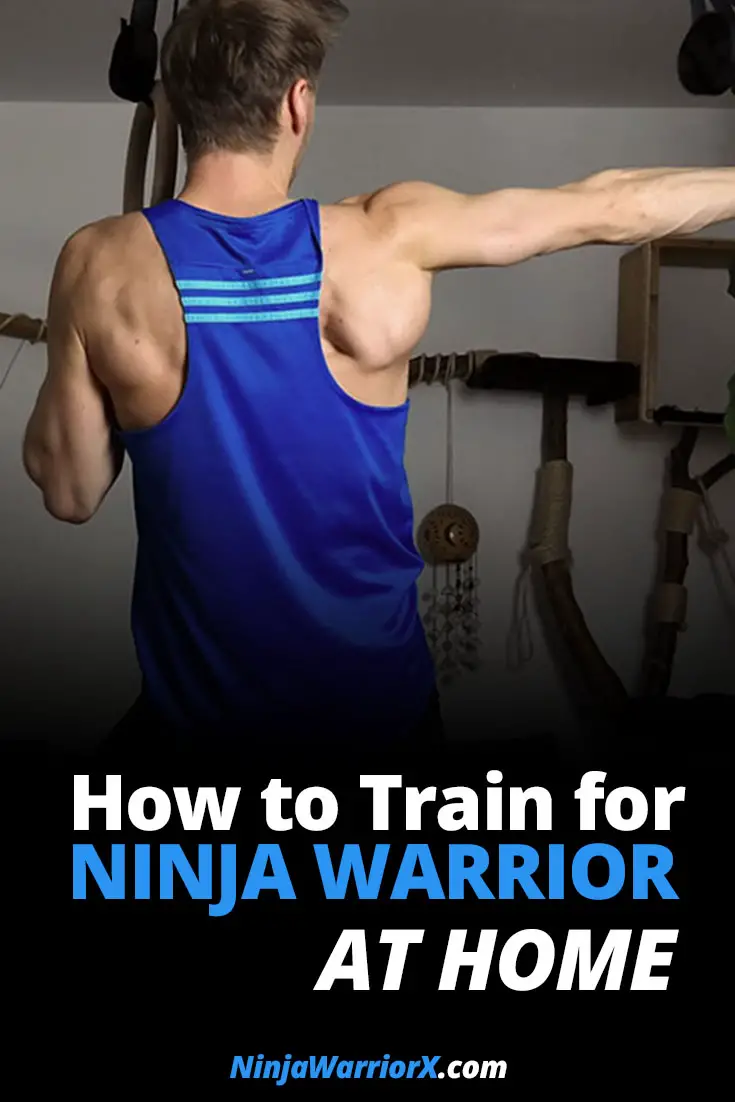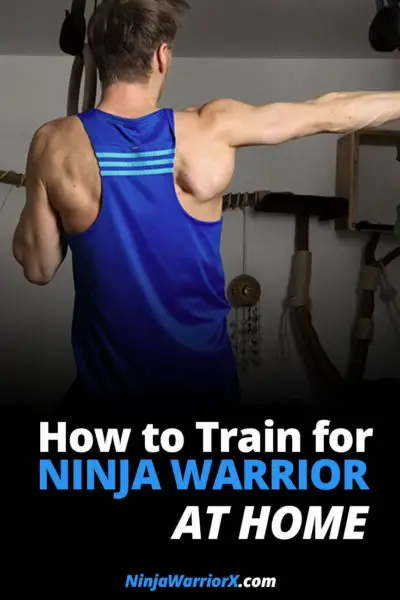 Ninja Warrior skills you can train at home
Let's start with the different skills that are needed for Ninja Warrior apart from having experience with Ninja Warrior obstacles. These are:
Brachiation
Lache
Grip strength
Upper body strength and power
Core strength
Balance
Stamina
All those skills can be trained at home, in your garden, or in a park nearby, mainly with just your body weight and a few tools.
If you haven't read my Ninja Warrior Training Guide, read it now to see what kind of training fits Ninja Warrior and then come back. Most of the training areas are covered in this guide in a way you can train them at home. For those that require some adaptation, I will go into detail now. Let's have a look at them.
Brachiation training without a Ninja Warrior or climbing gym
This one is probably the toughest one to train at home. Either you buy a few holds, like those I recommend as basic Ninja Warrior equipment, and mount them somewhere, or you look for a horizontal ladder in a public fitness park nearby.
If you have some holds AND access to a horizontal ladder you can even combine them and do some really nice brachiate training. Alternate between some balls, rods, rings, and towels to further improve your grip strength. Increase the distance between those holds over time and get used to swinging.
Upper body strength and power training at home
If you've read my training guide you basically know how to train upper body strength for Ninja Warrior. Just replace the campus board with a bar where you can train Clapping Pull Ups and High Pull Ups to get that kind of explosive power that is needed.
If you have a Calisthenics or an outdoor fitness park nearby, there is a great chance that you will find an ascending pull up ladder. Try to jump from rung to rung, which is essentially a "dyno". This move is an amazing training for the Salmon Ladder and the Spin Hopper.
Full-body Ninja Warrior home workout
The following workout addresses all major body parts at once. Such a training requires a one day rest between consecutive workouts. However, you can always train something unrelated, such as balance or endurance. If you want to train more than four times a week, I recommend a split training where you focus on specific muscle groups each day.
Some guidelines for the full-body workout
Warm-up for at least 2 minutes.
Perform at maximum 3 different exercises per major muscle group.
Rest for 30 seconds in between sets.
Optional: Do some HIIT cardio of your choice after the workout.
Overview of the exercises
Now, let's jump right into these exercises:
Exercise 1-3:

 Pull Up Variations (Wide, Narrow, One Arm Negatives, …)
You'll need: Pull up bar or gymnastic rings
Exercise 4:

 Front Lever Raises (optional)
You'll need: Pull up bar or gymnastic rings
This exercise is only optional, but I recommend learning the Front Lever. You will benefit from this strength and the additional body tension on certain Ninja Warrior obstacles. Besides that, climbing will be so much fun, once you've mastered this skill.
Exercise 5:

 

Hanging L-Sit Max Hold (Straight Arms)

You'll need: Pull up bar or gymnastic rings
Exercise 6:

 Toes to Bar / Hanging Leg Raises

You'll need: Pull up bar or gymnastic rings
If you can't reach the bar with your toes, try to bring your legs straight out in front of you and then back down. Also, avoid momentum or a kipping motion to get your feet up.
Exercise 7:

 Dumbell Rowing on Balance Board

You'll need: Dumbell and balance board
Use the opposite leg for balancing on the board and keep your back straight while rowing. This exercise will improve your balancing skills and strengthen your upper back at the same time.
Exercise 8:

 Alternating Jumping Lunges
Try to go down as far as possible without your knee touching the ground for a maximum training effect. As soon as you reach the lowest position do an explosive jump and switch your legs in the air.
Exercise 9:

 Burpees With Tuck Jump
Burpees With Tuck Jump are awesome to improve endurance, core and pushup strength, as well as jumping power at the same time. Definitely one of the most exhausting exercises of this workout. If you can do more than 15 repetitions in a row, feel free to do so.
Exercise 10:

 Spiderman Pushups
Try to touch your elbow with your knee while avoiding ground contact with that leg. Spiderman Pushups are my favorite as they also strengthen your core. However, I recommend using different pushup variations during consecutive workouts for a more balanced training.
Exercise 11:

 Handstand Pushups
Exercise 12:

 Hangboard Training
Alternatives:
Alternating Grip Dead Hang (60+ seconds)
One Arm Dead Hang (20+ seconds)

Finish your workout with some hangboard training to give your grip strength a massive boost, but restrict it to a maximum of 3 times a week. Your tendons need some time to rest. 
Once you have mastered all the exercises, decrease the length of your rest in between sets to develop more stamina. This will train your body to sustain a certain intensity over longer periods without getting exhausted – a skill that will be highly beneficial on the Ninja Warrior course.
Besides decreasing the time of rest, you can always increase the repetitions, the number of sets and the duration, if some exercises become to easy.
Want to Take Your Pull-Ups to a Whole New Level?
Just join the newsletter below and get a free copy of my pull-up performance guide with 16 powerful tips.
Best training tools for a Ninja Warrior home workout
I've compiled a list of the best Ninja Warrior equipment you can use for your home workouts. Use this list to get some inspiration and see which gear I prefer and use almost daily.
If you don't know where to start, get a good pull up bar, some gymnastic rings (you will love them), and a proper hangboard to improve your grip strength. Once a bodyweight exercise becomes easy, you can upgrade with a weighted vest.
Building your own Ninja Warrior course
If you have the space for building your own Ninja Warrior course at home, go to Pinterest to get some ideas. People have uploaded lots of images from their own backyard or garage course. You can even find some blueprints for obstacles like the Salmon Ladder.
I've already compiled some of these images in one of my own Pinterest boards, so you don't have to search.
Summary
If you don't have access to a Ninja Warrior gym or a climbing gym, you can still train effectively for Ninja Warrior and make great strides. Some athletes even do most of their training at home without having to. 
Besides your own body weight and a suitable workout, you don't need much. A versatile pull up bar, gymnastic rings, and a good hangboard are a great start to train major Ninja Warrior skills and get stronger.
I hope you enjoyed this article and the workout I've compiled. Let me know in the comments below!
Please share this article, if you liked it: