Flaky and horny skin is a natural consequence of steady climbing, bouldering, calisthenics, Ninja Warrior training and grip sports in general. But too much of it and too less skin care increases the risk of cracking and flaps, also called flappers, where the callused skin is ripped off and an open wound is left beneath.
Applying progressive overload, repeated friction, and irritation on your skin naturally leads to thicker and more resistant skin, which is what we want. But building up that tough and resilient skin takes time and special care.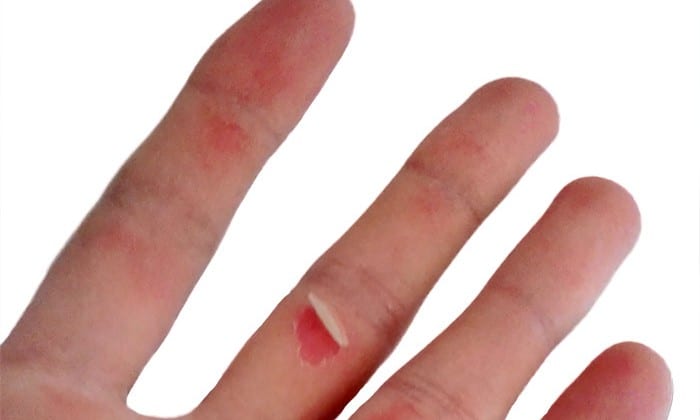 How to prevent your skin from ripping
Having horny skin is good, but when your calluses become too thick, they also become very hard and inflexible. That's not what you want, as these skin parts rip off easily with enough load and friction.
You want to have horny but flexible skin instead.
So, how can you achieve that?
Use a callus stone, a nail file, or fine sandpaper, and file down carefully the calluses. I personally use an electrical hard skin remover, as it is very convenient and fast. You also want to remove tiny flakes of skin with a nail clipper to keep your fingertips smooth.
Afterward, use a salve for climbers to support skin healing and keep it hydrated. Some people like to put it on again before bed.
These are the salves or balms I recommend you:
How to treat skin flaps
If it already happened, a good way to treat skin flaps is the following:
Rinse the wound with water and make sure there is no dirt left.
Dab it try with a clean and sterile tissue.
Apply antiseptic or antibiotic liquid or ointment.
If the flap is still attached to large parts, leave it there and cover it with a small piece of gauze bandage or use

If the flap is almost completely ripped off, then cut it carefully and then carry on with the piece of gauze bandage or the liquid plaster.
Last but not least, tape it with climbing tape, and you are good to go (and exercise again). The Metolius Climbing Tape and Mueller M Tape are an excellent choice.
What to do against sweaty hands
To prevent sliding off bars and handles due to sweaty hands, use climbing chalk (Magnesium Carbonate). It's cheap and will give you a stronger grip on the obstacles. Your skin still will become thicker when applying progressive overload.
You can get 4 different types of climbing chalk:
Loose chalk
Chalk blocks
Chalk balls
Liquid chalk
The chalk ball within a chalk bag is often used by climbers, as it can be easily attached to their climbing harness and used on the wall. The liquid form comes in a tube and, thus, is better applied before starting the exercise. It is frequently used for bouldering, calisthenics, and weightlifting, as it is usually stronger and more durable.
If you are one of those people with "sweat sprinklers" on their palms, like me, you will love the liquid chalk.
For further information about climbing chalk, check out my article about The Best Climbing Chalk for Perfect Grip and More Efficiency. And if you are training for Ninja Warrior, don't miss my tip there for situations where chalk is not allowed.
Want to Do More Pull-Ups?
Just join the newsletter below and get instant access to my quick guide to boosting your pull-up performance.
Summary
Good skin care is mandatory if you are climbing or bouldering heavily, do calisthenics, or train for the Ninja Warrior competition. 
The good thing: Applying progressive overload on your skin leads to thicker and more resistant skin in the long term. So, don't wear gloves during your Ninja Warrior workout, stop when you need to, use magnesium chalk against sweaty hands and slipping, give your hands enough time to recover, and keep your skin flexible and hydrated by reducing hard calluses with a callus stone or similar and applying cream afterward.
Now I would like to hear from you. Do you have further tips for skin care? Or maybe you have a question? Then leave a comment below!
Please share this article, if you liked it: