9321 N 94th St, Scottsdale, AZ 85258, USA
9321 North 94th Street
Scottsdale
Arizona
85258
US
"Scottsdale Parkour Freerunning is open to all ages and skill levels with no experience required. We are dedicated to helping you reach your goals no matter how big or small they may be. Students will learn to use their bodies to their full potential and get one of the best workouts imaginable. Building strength, balance, agility, and spatial awareness, parkour will take you to the next level of fitness. Scottsdale Parkour Freerunning has the best WFPF certified coaches in the valley utilizing authentic, real-world apparatuses for learning parkour and freerunning. We offer beginner, intermediate, and advanced parkour and Ninja Warrior classes for all ages, along with open gym times to come work on your skills or just have some fun. Many of our coaches also offer private lessons for students who want a 1 on 1 learning experience.
The Ninja Gym
Cross the parking lot and enter into our newest addition, The Ninja Gym. This all new gym has everything needed to take Ninja Warrior training to the next level—A Full-sized warp wall, salmon ladder with two separate rains for the beginner and advanced warrior, and adjustable quintuple steps to push the limits of a warrior. This and much more await anyone brave enough to take the challenges of the ninja gym."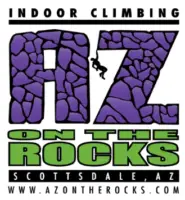 16447 N. 91st Street, Suite 105 Scottsdale, AZ 85260
4.63 mi
"ARIZONA'S LARGEST INDOOR CLIMBING GYM AZR offers a family friendly environment that ...