A lot of people asked me, how I went from a broken wrist to bouldering stronger than before within only 3 months. That's what I'm covering on the following pages. You will see everything that helped me in reducing the recovery time after my radius fracture.
But before you read on, here is also a short disclaimer: I am neither physician nor a medical expert, and all the content on this site is based on my own experience. So keep that in mind if you are in a similar situation and consult your physician or physiotherapist before making any changes to your therapy.
So, let's start!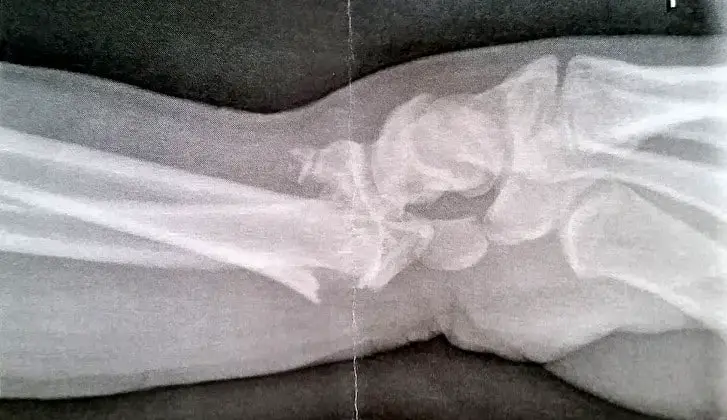 That was my left wrist at the beginning of March this year. Looks pretty ugly, doesn't it?
And that's also me 3 months later:
You see, I'm more than happy with the result, especially after my physician told me that I might not be able to start with light exercises in the first 3 months without feeling pain. Well, here I go again!
Start early with light exercises for improving mobility
And that's already the first issue where medical experts often take opposing positions. One of my physicians told me not to start sports within the first 3 months and keep my arm at rest during that period. However, other experts recommended starting with light exercises as early as possible for improving mobility, reducing swelling, and preventing further weakening of affected muscles. Well, guess what I preferred and what played out really well in the end.
Use light hand grip and finger strengtheners and slowly increase their resistance
Start very small, use a resistance you feel comfortable with and then gradually increase it. But, always only until it starts to hurt and no further. I already started squeezing very soft therapy stress balls during the first 2 weeks after my surgery while still wearing a splint on my forearm.
And this was my entire collection of finger and grip strengtheners: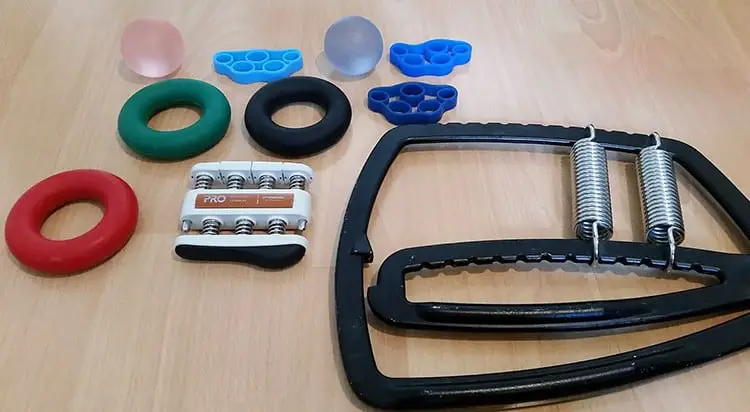 I can recommend most of them if you don't want to lose much grip strength within the first few weeks after surgery.
I started with the balls in the upper left and gradually worked my way through to the bottom right. You can get all these trainers on Amazon. If you are interested here is my list:
Beginn with swimming before doing heavier exercises
Swimming is an easy and comfortable way to start mobilizing your joints. Especially breaststrokes helped me a lot and improved my mobility significantly during week 3-6 after surgery.
Besides that, you will recognize that some muscles are already weakened and can be trained with swimming in an effective and painless way. Well, you may have some aching muscles the day after, but that should be worth it.
When feeling comfortable enough, start increasing the load
After week 6, I began with light training in the gym, starting with a quarter of my original weights. Whenever I felt uncomfortable with an exercise, I stopped that one and tried it again a week later.
After about 3 months, I arrived at my original fitness level without feeling pain when using heavy weights. So being careful and paying attention to my body paid off.
Stretch your affected joints every day
Stretching is also an essential part for getting back your original mobility. Make it a daily practice stretching your affected joints, first slightly and then with increasing strength. But never stretch further when starting to feel pain.
Lead a healthy lifestyle
Well, I couldn't say that often enough. Eat well, drink a lot of water, forgo alcohol and smoking, and sleep at least 7 hours per night. This will help your body to recover much faster.
Summary
So in summary, start small, start early, exercise and stretch consistently, pay attention to your body, live a healthy lifestyle and you will soon be able to do sports as before.
And that's it. I hope you can benefit from my experience. Let me know, what experiences you may have made after an injury and what tips you could add. Just write a comment below! Thank you very much!
Please share this article, if you liked it: