Blood flow restriction training (BFR), a technique of binding your limbs to reduce blood flow during exercise, can help you in growing your muscles faster and with less load and joint stress. What may sound like bondage, should be in the training repertoire of every Ninja Warrior, boulderer, climber, or bodybuilder. It's also an excellent training method after injuries[1] or for breaking through plateaus, as it stimulates muscle growth, especially that of fast-twitch muscle fibers, with less weight.
Blood flow restriction training, also known as occlusion training or KAATSU training, is one of the hottest, but still undervalued trends in strength training. You can apply it as a finishing technique after leg or arm training to gain a further boost of muscle strength, size, and endurance.
So, if you want to boost your upper body strength, this is for you! I'm going to cover the basics of blood flow restriction training, the science behind, some safety aspects, and, of course, training tips and instructions. 
Let's dive in!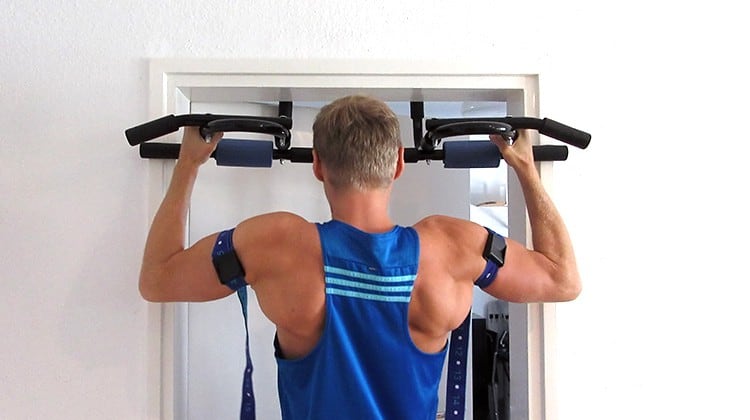 What is blood flow restriction training?
Blood flow restriction training means wrapping an elastic band or cuff around your upper arms or thighs to slow down the blood flow back to your heart while allowing the limbs with the applied wraps to become engorged with blood during low-intensity resistance training. 
The benefits of blood flow restriction training
By reducing the amount of blood that can leave your muscles, the concentration of lactic acid in the blood significantly increases and waste materials accumulate, which creates a lot of metabolic stress. This simulates a much harder and prolonged exercise than you have actually performed and tricks your body to release more growth hormones, leading to an increase in muscle strength, size, and endurance.[2,3,4,5,6]
Further positive effects are:
Improved blood flow within the entire body
Increased metabolism and fat burn
Enhanced collagen-dependent tissue repair
Enhanced bone healing
Faster results within significantly less time
Academic studies have shown, that blood flow restriction training with less weight can lead to the same results as traditional heavy lifting within up to less than half the time.
Increase in fast-twitch muscle fibers
And now the best part: By restricting the blood flow slow-twitch muscles, or so-called type 1 fibers, run out of oxygen much earlier, resulting in an increased activation of fast-twitch (type 2) muscle fibers.[9]
Fast-twitch fibers have the highest energy expenditure and growth potential but are hardest to activate. So, by using occlusion training, you can reap the benefits of an intense and heavy load training without actually doing it![10]
As a Ninja Warrior or any bar athlete, you need these fast-twitch muscles, as explosive movements are mandatory for certain obstacles. The increased growth of these fibers, thus, comes in really handy.
There is a nice video, which shows all these processes within your body.
Want to Take Your Pull-Ups to a Whole New Level?
Just join the newsletter below and get a free copy of my pull-up performance guide with 16 powerful tips.
Suitable blood flow restriction bands
There are multiple options for reducing the blood flow properly. I'm using elastic blood flow restriction bands and recommend the ones with a plastic closure, soft texture and comfortable width, like these:
How to tighten the BFR bands properly?
First of all, don't use occlusion training bands on your arms and legs simultaneously. Decide what you want to train and then apply two wraps either on your upper arms, just below the shoulders, or on your thighs as high as possible.
Tighten the wraps so that you can feel the restriction of blood flow, but the wraps are still kind of comfy. You want to restrict venous flow, but not arterial. The blood should be able to flow in, but not out. So, don't tighten the wraps too much. On a scale from 1 to 10 with 10 being the tightest state possible, you want a 7. You shouldn't feel any tingling and your limbs shouldn't turn blue! That would be far too tight.
Also, don't wear the wraps longer than 15 minutes.
Is blood flow restriction training safe?
When done properly and as described before, blood flow restriction training is a safe training method. By restricting the blood flow to a maximum of 15 minutes with moderate pressure, your arms won't fall asleep.
However, if you start to feel any tingling, numbness, or even real pain, stop immediately and remove the wraps.
And, if you are suffering from any vascular disorder, don't do it!
Occlusion training workouts
Occlusion training is primarily used for and shows best results on weightlifting exercises like squats, leg press, leg curl, bench press, triceps push-downs, and biceps curl. It's recommended to use light weights during occlusion training, usually 20-30% of your one-repetition maximum to muscle failure.[11]
Start your exercises with 30 repetitions in the first set and do 3 more sets with 15-30 repetitions. Rest for 30 seconds between the sets. That's the way to go. If you can't do 30 repetitions during the first set or 15 repetitions during the following, the wraps are either too tight or the weight is too heavy. Change that accordingly.
Occlusion training as a Ninja Warrior
If your Ninja Warrior training doesn't include much weightlifting in the gym, but more bodyweight exercises, why not combining pull-ups, chin-ups, and push-ups with occlusion training, as me shown in the image above? You probably won't reach 15-30 repetitions, but you will still give your muscles a great boost.
Want to Do More Pull-Ups?
Just join the newsletter below and get instant access to my quick guide to boosting your pull-up performance.
Conclusion
Blood flow restriction training, or occlusion training, is a great way to break through plateaus and further boost your muscle growth. If you want to promote hypertrophy and recruit more fast-twitch muscles, you definitely should try this training method. 
The best approach to integrate it into your training schedule is by using it as an isolated finishing technique of maximum 15 minutes with cuffs wrapped around your working limbs. 
You will love it!
If you enjoyed this article or know someone, who might be interested in, please share it. That would be great!
Did you already share this? No? Share it now: